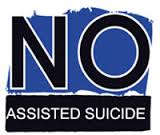 On March 25th, the NJ Assembly passed the Assisted Suicide bill (A1504/S1072) by the bare minimum number of vote needed to pass- 41 votes.  The NJ Senate also passed the bill by the bare minimum needed – only 21 votes.
We wish to thank all members of the Assembly and Senate who voted no on the bill.  We also want to extend a  special thank you to Asm. Jay Webber (R-26), Asm Christopher DePhillips (R-40),Asw. Serena DiMaso(R-13), Asw. Joseph Howarth (R-8) and Senator Robert Singer (R-30) for speaking against the bill and articulating the myriad of problems this bill poses for individuals and our society as a whole.
Soon after the bill passed, Governor Murphy issued a statement announcing his intention to sign it into law.
Contact the Governor and urge him to Veto or Conditionally veto A1504/S1072. Thank you.
Phone the Governor: 609 292 6000. Email the Governor: https://www.state.nj.us/governor/contact/
How did your Two Assembly Members Vote? Click on the blue hyperlink below to find out
How did your State Senator vote?  Click on blue hyperlink below to find out